FOR READERS IN THE DC AREA:
On Saturday, March 3rd I'll be DJ-ing at University of Maryland. Actually, it's more like I'll be the "selector"
But for all intents and purposes, it's a DJ set and I'll be playin' some of my favorite post-punk, indie, reggae and electro.
I'll be behind the laptop either between 10am-2pm or the more fashionable 12-2pm.
Either way, I'll be around.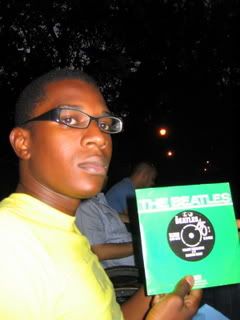 SATURDAY MARCH 3RD.
University of Maryland's radio station, WMUC 88.1 FM, presents the Record Swap! Independent record dealers from all over the DC/MD/VA area to bring in their latest and greatest!
10:00am - 4:00pm
FREE ADMISSION!!!
Stamp Student Union in The Atrium (one floor above the food court)
University of Maryland @ College Park, MD
Metro: Green Line College Park/U-Md. There is a shuttle from the Metro Station to Campus.
Thousands of records from all genres of music means millions of beats, all ready to catch the needle in the groove and get you movin'! LPs, 45s, CDs, etc, all under one roof. Whether you're looking for that elusive 7" or just want to see what catches your eye and ear, this is the place to be!
DEALERS SO FAR:
- Get Hip!
- Smash Records
- Yesterday & Today Records
- Dave's Metal Records
- Strangeland Records
+ more TBA!
Got vinyl of your own that you want to sell or trade? Bring it in! WMUC will have a consignment table for your own offerings, or bring it around to the dealers, and make a deal! Bring your want-lists and your headphones! THERE WILL BE LIVE DJ SETS and DOOR PRIZES, and a good time guaranteed!