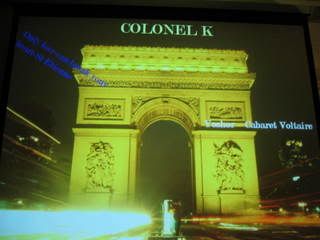 I was reading the Washington Post Express on Thursday morning when I stumbled across an ad for a
Nuite Carte Blanche
at the Alliance Francaise de Washington. More specifically, guests were asked to bring their favorite electronic songs on an I-Pod so that the DJ could play them over the PA. For a small fee you could sip wine or margaritas and munch on hors d'oeuves. But most importantly, the event was an opportunity to speak French with native speakers, Francophiles and those who are trying to remember the four or five years of French they learned at school. I decided go because I was unable to head to New York to see 100dBs, Ryan O'Neil and Outputmessage do their thing in the LES.
NOTE:
Strangely enough, I recently turned in a final essay that dissected the influence of Mp3 blogs and MySpace on the French underground electronic scene. I managed to cobble together enough resources to make that paper fit the rather hazy criteria that was given to us by the prof. I never thought that I'd have an opportunity to spit some facts about how Ed Banger remixes are a sign of increased cultural exchange.
A healthy number of people were milling around the front room when I arrived a little after 7pm. I paid my entrance fee and began with the uncomfortable task of mingling. Despite my chatty nature, I am still quite self-conscious when it comes to bullshitting during the first few minutes of conversation. It's in situations like these that I tend to rely on other people to make things happen. Thankfully, I was approached by Mark and Sarah, a couple of friends who'd spent extended periods of time in Dakar, Senegal. We spent an unusually long time talking about architecture and morality because the two of them had studied urban planning and development. After a few drinks, we decided to part ways and mingle because it seemed somewhat anti-social to post up in a corner.
By this time it was....well who the fuck remembers what time it was....the MCs began to announce the songs that would be played from MP3 players. A few people were called up to briefly discuss their choices. Not wishing to be outdone, I quickly filled out a small sheet of paper and handed in my song selections. I don't know if it was my diplomatic skills or good taste that got me added to the queue, but the staff were super cool about it. To make things even better, they put the names of our songs on a projection screen (see photograph above).
My three songs:
1. St. Etienne feat. Moira Lambert "Only Love Can Break Your Heart"
2. Cabaret Voltaire "Yashar"
3. Sarah Nixey "Beautiful Oblivion"
Say.....I've just realized that the first two groups are English bands with French names. Either way, I was more than pleased to contribute to the festivities. And, as a bonus all the amateur "DJs" were rewarded with a bottle of Merlot and invitations to another upcoming musical celebration being hosted by the Alliance. For this, I have to give a grand "Merci" to Sylvain and his two immaculately dressed colleagues. Fucking 'ell, can't remember their names. Now I see why everyone in DC has a card....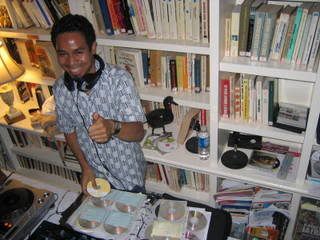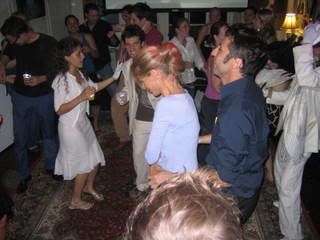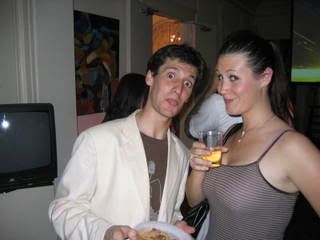 After enjoying my minutes and seconds of fame, I took up conversation with two Indian girls with very French names, Elise and Cecille. Comically enough, the two of them also share very D.C biographies: Elise is a student, while Cecille works for Department of Commerce. We did the usual meet and greet and ping-ponged between French and English and eventually the conversation veered towards music. I casually slipped in some references to my blog and my band. Remember, this music shit is all about hustlin'.Look, you've gotta create a public image. Shameless self promotion is the key to expanding one's audience.
I also ended up chatting with Nell, a student at the American University in Paris. Normally people go to AUP for a semester or year abroad, but she was actually doing her degree over there. Her accent was so convincingly Parisian that I kept having flashbacks of my grey days spent at the Centre Pompidou. Somewhere in the middle of this exchange I was pleased to spot Becca, Alexandra and their unruly mob, which included Gavin and Fritz. I swear, this lot are omnipresent. Any big event within a 20 mile radius of the area, they're all present. First and foremost, I apologized to the girls for all the racket that comes out of their basement (I am in a band with their housemate). They laughed it off, but noted that my bandmate does have a tendency to play music at very odd hours.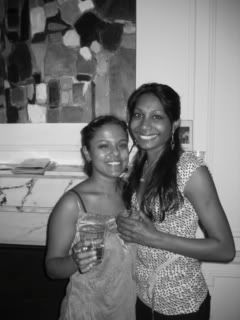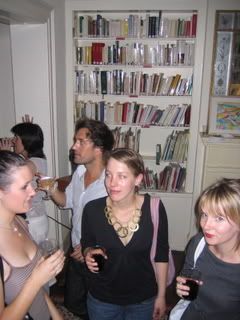 For whatever reason, happenings like this do not stretch late into the night. I surmise that it has something to do with the fact that many Embassy Row affiliated buildings are housed in a super residential neighborhood. Rather than go home and collapse, I decided it would be best to ride the tiger on this one. I quickly collected business cards and info from from the Alliance (all of this regarding the planning for my band's Bastille Day show) and made moves. I went home, dropped off my bags, took off my blazer, threw on my Supreme hat and decided to continue the week long party that has been my post-graduation celebration at a nearby watering hole.