Dead Beat were once known as The Husbands, and this created an incredible amount of confusion, as there is a band from California with the same name. When they played their first show at the Wonderland Bar in Washington DC, I remember overhearing some people say "Oh this isn't the right group at all!" Needless to say they soon changed their name to the Ex-Husbands before settling on Dead Beat.
Dead Beat is Andrew Bucket (guitar, vocals) and Haley Baptiste (drums,vocals). Both are longtime locals of the DC Metro area and are two of the friendliest faces that you can encounter in the late night party circuit. It is always a pleasure running into either of them. And living where I do, it happens quite often.
Because of internet issues and scheduling conflicts, I was only able to interview Andrew. Be on the lookout for an in depth conversation about Felt, Maximum Joy and all things weird and wonderful with the one and only Haley.
Until then, I present to you Señor Bucket: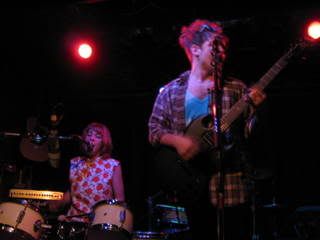 First of all, how did you guys get together in the first place? When did it all start?
Well I met Haley at Wonderland in early 2005. It was a very different bar then. I think it was a very different DC then, too. Now you have "cool," yuppies.
Anyway, we were snowed in one weekend at Haley's house and we found a program that recorded music on her cousin's Mac. We were in the basement and there was a drum-set from Haley's youth and immediately next to it was her Dad's guitar. So one-two, we're a band. It was a joke though, we put it on MySpace for our friends to laugh about, but they took it seriously. Then we took it seriously.
Let's talk about your influences. I have to say that you two have pretty eclectic taste in music and it carries over into your work. What got you to pick up instruments and what's keeping you alive right now?
Well Haley and I have similar taste now, obviously. But I know she's had phases that I did not have. Riot grrrl being one of them.
The first band I ever freaked out over was Green Day and I was 11. That's a cute one I'm willing to admit. When I was 18 or 19 I heard the Jesus and Mary Chain and I still listen to them. Mazzy Star is a band I think I'll listen to for the rest of my life. Other bands that I really like are The Popguns, Velocity Girl (from our hometown!), also the original DC scene- The Beatnik Flies, the Slickee boys, and Tru Fax and the Insaniacs.

What music do you dislike right now?
I'm not sure. I don't know if I entirely hate any kind of music. I thought I hated The Killers, even though I'd never heard anything by them, but then I was in the car and heard some song and I thought it was an old New Order b-side…turns out…it was them. I was very embarrassed when Haley Googled the lyrics and told me who it was.
Anyway, I tend to get bored with music more than anything and the most boring music I can think of is Animal Collective.
Alright, look...the indie rock duo is hardly a new or novel approach to music. What is Dead Beat bringing to the game that the White Stripes, Mates of State or the Ravonettes aren't?
Well, duh. We know our roots. The only comparison I would reject is the Moldy Peaches, because we take our music seriously. I would say that we come from a more shoe-gaze/psychedelic school of rock and roll. The White Stripes do the blues, Beat Happening did pop, and we do pop, but we can also sing well. So we have that going for us. I think we're better than those bands to be honest. I mean we're a pretty cute little duo. I think Haley really puts me in context, and I put her in context. Our binary is really, really radiant—and it even blurs a little cuz we're both pretty queer.
Y'all have played a decent number of shows in the DC area. What do you enjoy about it? What do you hate?
I hate worrying about people coming to the show. DC is a small town and most of the clubs are booked by one guy who wants dance bands that are dressed like Ritchie Tenenbaum. So if you have an off-night and nobody comes, that could mean curtains for you at one of these places. But the Velvet Lounge and Wonderland are good to us and I'm getting to the point where I don't really want to play anywhere else unless they offer us the royal treatment, and even then I just don't know.
I also like I love playing with Ra Ra Rasputin. I also love meeting girls and getting free drinks, but my favorite thing, my absolute favorite thing is when you have a new song that you just know is going to be a hit, and you play it really well, and everyone loves it. That's what it's all about.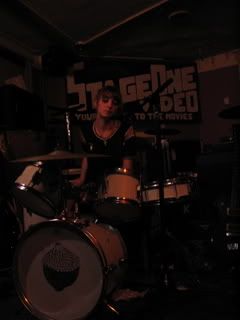 Five groups that you'd like to see reunite
Orange Juice
The Velvet Underground (and I would suggest Mike Watt on bass)
Velocity Girl
Misfits w/ Glen Danzig (of course)
Mazzy Star
Five favorite songs right now
"Shabop Shalom"- Devendra Banhart
"Walking With Jesus" Spacemen 3
"The People I'm Not"- Ariel Pink's Haunted Graffiti
"Ain't No More Cane"- Burt Jansch and Rod Clements
"Black Diamond Halo"- The Beatnik flies w/ Mark Noone from the Slickee Boys
I must say, you two are quite the stylish pair. Would you mind giving away some of your secrets?
I just try to dress like Joe Dolan from the Beatnik Flies or Kim Cane from the Slickee Boys. But, if you don't know them, just read Japanese fashion magazines, it's all about wearing one of everything. Just keep adding things to your outfit, but only one of things that come in pairs. After you have like 25 or 27 things on, you should have a pretty good outfit.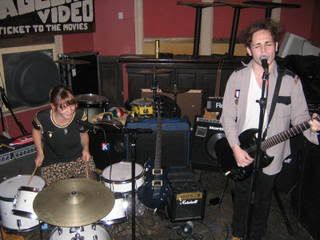 You guys have written a lot of material since the Shoes EP. When can we expect some new recordings ?
Well the Shoes EP was recorded in one day using the microphone hole on a Mac computer. We have some friends at UMD that are going to give us some free studio time and we will probably record there and release a real album by like, Valentines Day. We haven't picked a title and Haley doesn't know this, but I thought maybe we could call it
In Rainbows
.
Well, I'm excited to hear what you come up with next. Now, tell me a little bit about your other musical endeavors.
We both record by ourselves, but I haven't heard any of her stuff. Her mom says it's really slow music. I usually make people songs as birthday gifts, or just any old occasion gifts, so I have those and maybe 40 songs I've done alone that are very much copying Marc Bolan's early stuff, even copying Leonard Cohen.
Haley and I had an electronic band called The Wicked Stench and we had a dance hit called Décédée, which is French for deceased.
I also have a band called Women that only plays private shows amongst friends and it's a true-blue shoe-gaze thing with lots of reverb and we do these video projection things while we're playing. Nothing new, but if you're going to imitate anything…ya know?

Do you have any predictions for 2008? What trend is going to sweep the underground music world and render everything that we currently enjoy obsolete?
I've already seen the noise thing get kind of good and I think that's pretty cool for the purpose of tear-down/rebuild philosophy. A good noise band can get down to the rudiments of sound and explode even the tiniest nuance. It's like looking through a microscope. The smart musicians, the really smart ones, smarter than any of us, will cultivate these new ways of making sound and will ultimately devise new paradigms. I heard about an instrument made up of a scanner that measured the luminosity of any object you put in front of it and converted the scan into a tonal value. The guy played it by putting things in front of the scanner and then taking them away, then he put on white gloves and played it with his hands.
Dead Beat @ MySpace
Women @ MySpace
Dead Beat will be performing on Saturday October 20th at the Velvet Lounge. Doors are at 9pm.