Who we?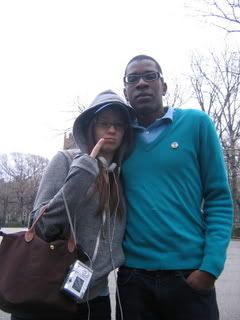 We're both are O.G. New Yorkers by birth (Him-Harlem World, Her-Shaolin)
We both possess MA's from overpriced private universities.
We both know what goes down in la banlieue
We are both are the oldest of four children.
We know all about the CRS and the Guardia Civil.
It's pretty apparent that Mel-1 and myself live parallel lives. When we found out that we had both delivered very important mix tapes to people within one month of each other, we were like "Oh, word?" So in celebration of our efforts, we've decided to dissect and discuss each other's mixes in a joint blog entry. Run on over to Melissa's blog,
Public Witness Program
, to read her thoughts on my mix.
...now, without further ado, an analysis of "Use With Caution" (May 2008)
Name of Mix:
"Use with Caution"
Author:
Melissa B. Friedman aka Mel-1
Nature of Origin:
"Trying to impress someone. Cool, I know..."
Length:
"56 minutes and some odd seconds if I remember correctly"
Most difficult challenge during compilation:
"It was hard for me to decide on the general mood I wanted to convey. I also had some difficulty in deciding the order of the last few songs. I felt like the mix CD turned into Lost in Translation Part II thus I tried hard to avoid duplicating an oeuvre that more or less already exists."
Two favorite tracks:
"Tout n'est pas si facile" -NTM
"Windowlicker (demo)" - Aphex Twin
Full Tracklisting:
1. Machine Gun - Portishead
2. 5:55 (The Black Ghosts Remix) - Charlotte Gainsbourg
3. The Guns of Brixton - The Clash
4. Tout n'est pas si facile - NTM
5. Requiem pour un con - Serge Gainsbourg
6. Sexual Sportswear - Sebastian Tellier
7. Windowlicker (Original Demo) - Aphex Twin
8. Knife - Grizzly Bear
9. Sometimes - My Bloody Valentine
10. Ceremony (New Order cover) - Radiohead
11. After Class - Deer Hunter
12. Just Like Honey - The Jesus & Mary Chain
Colonel K's thoughts:
As long as I've known her, Melissa's always had the most amazing taste in music. From her collection of obnoxious punk 7-inches back in high school (e.g. "John Wayne Was a Nazi" by MDC) to her more recent appreciation of all things French, it's always been "class" with Mel-1. So when she told me was trying to impress someone, I just shrugged my shoulders and said "Well that shouldn't be too difficult." But I quickly realized that it was flippant for me to say that. Apparently the girl was really breaking a sweat over making this mix flow just right. The night before it was due, I received a frantic text that read
"Should I put Fugazi on this Mix? I'm being so neurotic about impressing him."
Having only seen the tracklisting, I can already tell that this compilation is dope. The main reason is the leadoff song, Portishead's "Machine Gun." I'd wanted to put this on a mix I made a few weeks ago, but I ended up cutting it because it was too jarring. I also like the fact that the first half of this mix is so menacing. The aforementioned "Machine Gun", "Guns of Brixton", and "Requiem Pour Un Con", all these songs are badass.
The second half, on the other hand, is much more ethereal and kinda sweet. The sorta stuff that you'd want to listen to on a cloudy spring afternoon. And yes, I know that "Sometimes" and "Just Like Honey" were used poignantly in
Lost in Translation
. But just because a song was used in a Sophia Coppolla movie doesn't make it any less beautiful.
Oh, word. Bonus points for including the demo version of "Windowlicker" and Radiohead's cover of "Ceremony": as much as I enjoy the originals, it shows a lot more depth to use a really good cover OR an alternate version of a well known track.
If I were the guy who received this CD, I'd probably be speechless. I mean, yeah, there are plenty of real chill girls who like good music. But it takes just as much thoughtfulness and talent to take those songs and sequence them.