While I no longer read Pitchfork for the reviews, I still read it every morning to catch up on industry gossip and read the interviews. Since the essay I had planned for this week is not yet ready, I decided to poach some questions from Pitchfork's "Guest List" and interview, um, myself.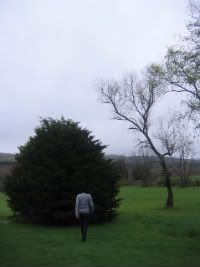 >> Favorite Songs of the Past Year
Kanye West "Flashing Lights"
I lost interest in Mr. West after Late Registration. I dunno, perhaps I grew tired of his incessant bragging and public temper tantrums. But personal criticisms aside, this is one of the standout tracks on Graduation. The video is hot, too.
Portishead "Machine Gun"
I know Portishead were working on "Third" for a really long time, but upon listening to a pre-release copy, I can see why they were under so much pressure. How do you beat "Dummy" and "Portishead"? I know a few people who are pretty disappointed with "Third," but I think it's wonderful reinvention of the group's sound. It's still depressing, but I like that they're using much more jarring
Chromatics "Hands in the Dark"
When I first heard "Hands In the Dark" in my friend Scott's car, I asked what year it was released. To my surprise, he said "2007." It's one of the most beautiful and haunting dance songs I've heard in a while. It's perfect for night drives, too.
>> Favorite Older Songs at the Moment
The Gist "Love at First Sight"
Not to be confused with the DC band, Gist. This was Stuart Moxham's solo project after Young Marble Giants broke up in 1981. It reminds of the grey and dingy RER stations outside of Paris. And the synth line does sorta remind me of that weird deer in headlights look when you first make eye contact with someone you're attracted to.
Blur "You're So Great" and "Death of a Party"
These songs are back to back on 1997's "Blur," and I really like them because they both deal with reexamining your personal and social life, respectively. "You're So great" is Graham Coxon lamenting his alcoholism while proclaiming his love for an unknown person. "Death of Party" is Damon Albarn shrugging off Britpop as a lame party that no one should've attended in the first place.

>> Favorite Song Ever
"Loaded" by Primal Scream.
I think I was at a Britpop dance night when I first heard this over a full PA system.
It always reminds me of really amazing nights out.
"Red Sleeping Beauty" by McCarthy
First time I heard this song was sophomore year of college. I was so blown away by the intro, that I asked my friend to play it 2 more times.
>> Best Recent Concert
Ghostland Observatory at the 9:30 Club.
This show was so over the top, that I had no excuse to not enjoy myself. Strobe lights, smoke machines, lasers. The works.
>> Favorite New Band
Ringo Deathstarr. Ra Ra Rasputin opened for them back in February, and I was really impressed on two counts. First, their equipment and guitar tones. Second, the songs were all really good.
I tend to be dismissive of most shoegaze revival groups, but these guys had "it." I ended up changing my listening habits because of them. I started listening to My Bloody Valentine and Ride again; something I hadn't done in about a year and a half.
>> Last Great Film I Saw
Control by Anton Corbijn. Every shot in that movie is flawless. He did a fine job making the transition from music videos to the big screen.
>> Last Great Book I Read
The last book I really enjoyed was "The Diving Bell and the Butterfly." The story was so moving, and the descriptions were so vivid. It's incredible that the author was able to transmit all that information simply by blinking one eye. Then again he had no other choice. I've also been working my way through George Orwell's "Homage to Catalonia."
>> Favorite Piece of Musical Equipment
My Rickenbacker 360. I'd wanted a Ric for years, and during the summer after Freshman year of College, I got a job that paid really, really well. I found one for a reasonable price, and it's been my main guitar ever since.

>> Favorite Record Shop
There are actually a lot of really good record stores in Washington DC, and they're all located within walking distance of one another. But the one I spend the most time in is Red Onion Records & Books. I got two records that I never thought I'd see: David Bowie "Heroes/Heroes/Helden" 12" (with French, English and German versions of his 1977 classic) and the US version of Teardrop Explodes "Kilimanjaro."
>> Best Purchases of the Past Year
1. A pair of Sperry Top Sider Boat shoes
2. A Univox 335 Custom Copy 12-string electric guitar.
The Sperrys are the most comfortable and versatile pair of shoes I own. It's so great not having to wear socks. The only hang up is that I have to moisturize my feet so that they don't look ashy.
The 12-string electric was something I picked up simply because it was a very good deal ($300 vs $1200+ for a Rickenbacker 12-string). It's taken some time to really get that "jingle-jangle" sound, but it's worth it.
>> Best Thing I Did This Year
Move myself to the top of my list of my priority list.
>> Favorite Venue
Black Cat. It's close by and I've seen more good shows there than at any other venue I've frequented in the last eight years.
>> Favorite TV Show at the Moment
Well, since The Wire ended, I have no reason to watch TV anymore.


>> Favorite Video Game at the Moment
I was never into video games. We never had them when I was younger. I still can't be bothered to play them.
>> Favorite Radio Show
I don't listen to the radio anymore. Even though I have an AM/FM receiver, I never use it. It's a real shame, you know?
>> My Ringtone
Beep once, then vibrate. A phone is just that, a phone.