I decided to postpone my planned entry for this week, and devote some web space to the late great Soul Brother #1, Mr. Dynamite, The Hardest Working Man in Show Business….James Brown, who passed away on Christmas morning.
Christmas at my house can be pretty boring. Both of my parents work weird hours, so we often don't open our presents until the late afternoon. This past Monday morning, I was surfing the internet and trying to pass the time when I learned that James Brown had passed away. I was gob smacked. I really was.
Never mind the fact that he was in his seventies, the man was constantly on the road. The way he was carrying on, he shoulda lived to be 100. I can swear that he headlined at the 9:30 Club in DC at least once a year for the last five years. The only other performer who comes through the Capital that frequently is George Clinton (plus whatever incarnation of P-funk he's dragging along with him).
While he wasn't formally trained as a musician or a conductor, Brother James knew what he liked. He was demanding as a motherfucker and worked his backing bands like dogs. Musicians had to balance jazzy improvisational skills with their master's strict discipline and funky goals. Wheezy demands of "Take me to the bridge!!!" "Good God!" and "HEH!" are among the most recognizable vocal cues in the history of recorded music.
What made James Brown so spectacular is that his love for hollering, controlled drum solos and funky breakdowns actually paved the way for the future. His influence streched far beyond his heyday in the 1960s and 70s. The man practically invented funk.The raw sexual energy that flowed through him was contagious. As a result, many former James Brown Band members went on to be funk greats in their own right. Hip-hop owes its very existence to the drum breaks that the Godfather often called for. Had sampling laws been in place during the early 80s, he could've retired and lived off the royalty checks!
But don't think that his influence was limited to the Americas. During a late 60s trip to Los Angeles, Fela Kuti was transfixed by the strong messages for black empowerment and self-respect. He would return to Nigeria armed with these ideas and a good grove, only to unleash Afrobeat on an unsuspecting world.
James Brown was a visionary, a genius, and a legend. He also had a vicious temper, several drug habits and was incredibly abusive. There were numerous times during his career that his tabloid infamy threatened to soil his brilliance. However, one must remember that no man is a saint. Besides, how many other men could claim that they helped prevent rioting following the murder of Dr. Martin Luther King, Jr? The national telecast of his performance in Boston actually prevented many a black man from doing something stupid. If James Brown had really been an asshole, he'd have turned 'em loose from coast to coast.
There have been few individuals with his kind of power and presence.
I doubt that we'll see anyone like him again.
Rest in Peace, Funky President.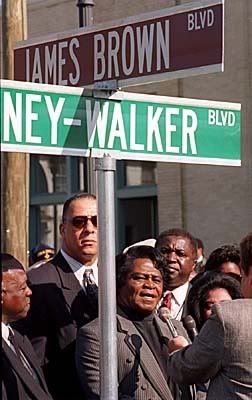 Have a happy and safe New Year….Now Enjoy!
James Brown on the Ed Sullivan Show in 1966
A list of songs that sample "Funky Drummer," courtesy of TheBreaks.Com
Download some classics at Bag of Songs