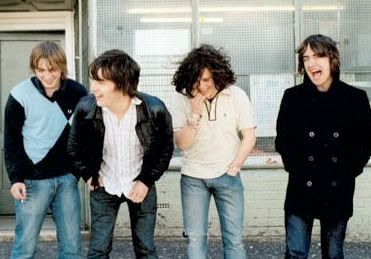 Scottish indie rock quartet the View have cancelled an upcoming tour of the United States, citing visa application troubles.
In August of 2006, lead singer/guitarist Kyle Falconer was arrested following a performance at Dundee University. The singer admitted to having 2.595 grams (0.1 oz) of cocaine, an amount carrying a street value of £150.
Earlier this year, Falconer appeared in Dundee Sheriff's Court where he pleaded guilty to possession of a Class A drug. His lawyer begged for an absolute discharge, citing that a drug conviction would make it difficult for the singer and his group to fulfill touring commitments in the United States. The request was denied and Mr. Falconer was convicted and given a £1,000 fine.
Unfortunately for the View and their American fans, Mr. Falconer's lawyer was right. A spokesperson for the group recently announced the cancellation of all North American dates, due to "continuing visa and immigration issues." The tour was scheduled to begin on April 30th in Cambridge, MA.
You may be a bit befuddled as to how or why this happened. But readers rejoice, for you no longer have to dwell in the darkness that is US visa policy. The following essay will provide you with a very basic guide to the application process.
By doing this, I hope to shed some light as to why the View will not be bringing their unique brand of tight-pants-scarecrow rawk to a small sweaty venue near you.
DISCLAIMER: I am not an officially licensed/recognized specialist in US Visa policy nor am I an immigration lawyer. All of the information below has been cobbled together from official government documents and two years experience working at the International Services Office at the George Washington University.
APPLICATION:
There are a plethora of immigration classifications and visa categories listed at the US Citizenship and Immigration Services (USCIS) website. Any group that wishes to perform concerts in the US must apply for a an O or P Visa, both of which have sub-categories designated for artists and entertainers.
First and foremost, the group (or their lawyers) must submit an I-129 form, a petition for non immigrant workers. This is a lengthy and detailed document that must be prepared with great care, for any mistakes could result in the denial of the application and a delay in the visa application process.
Once the I-129 form is approved by USCIS, the group may then arrange for a visa appointment.
Visa appointments can be scheduled at a United States embassy or consulate. The consular officer is the embassy official who is responsible for reviewing all visa applications. This individual must thoroughly examine the I-129, the itinerary and any other relevant documents pertaining to the tour. The applicants must not only supply the appropriate papers, but also be prepared to answer any questions about their finances, reasons for touring, criminal history or participation in terrorist organizations (I'm not kidding).
If the consular officer is provided with sufficient evidence that the artists are eligible for temporary work in the United States, each member of the group and their staff (roadies, tour managers,t-shirt guy, etc.) will get the appropriate visa laminated into their passports.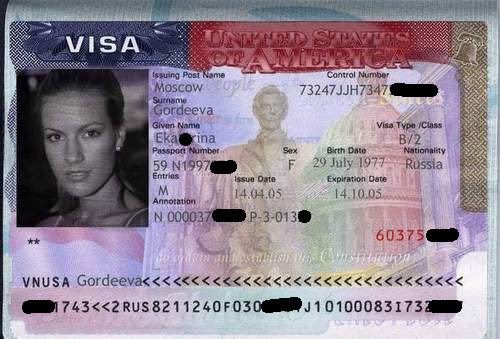 (Example of a B-2 Visa: For temporary visitors for pleasure)
DENIAL:
So why was Kyle Falconer denied a visa?
Because information about the denial has not been made public, we can only speculate as to why the consular officer said "No." Thankfully, a list of common reasons for visa denial is available on the USCIS website.
Section 212(a) of the Immigration and Nationality act reads:
Classes of Aliens Ineligible for Visas or Admission.
Except as otherwise provided in this Act, aliens who are inadmissible under the following paragraphs are ineligible to receive visas and ineligible to be admitted to the United States.

Section 212(a)(23) Renders inadmissible aliens who have been convicted of a violation or conspiracy to violate any law or regulation relating to the illicit possession of, or traffic in, narcotic drugs or marijuana.
Again, because I'm not an expert, I can't tell you if it was only Kyle who was denied a visa. It is very possible that the rest of the group were also denied visas
because
of Kyle. Either way, it's pretty safe to assume that the drug conviction played a big role in the consular officer's "No" decision.
THE FUTURE:
Thankfully, the View will probably not be forever barred from entering the United States. Hell, if all foreign artists with drug convictions were denied touring visas, then Keith Richards and Paul McCartney would not be as rich as they are today. Nonetheless, Kyle Falconer will have to announce his conviction the next time he applies for a visa. But with good behavior (and the passing of time) he and his band should be able to gain access to the lucrative US touring market.
For now, young Kyle will have to beat himself up over the fact that his bad luck cost the View a late spring/early summer tour of the only country that's open 24/7/365 all the time.
LINKS:
United States Citizenship and Immigration Services
United States Immigration and Nationality Act (This is an older version. There have been several updates and corrections since)
The View's Official Website
"The View Cancel US Tour Again" from NME, April 4th 2007
"The View Frontman Convicted of Cocaine Possession", from Spin, March 2nd 2007