My last visit to DC9 left a rather sour taste in my mouth.
I had tickets to see Asobi Seksu, and because doors weren't till very late in the evening, I decided to kill some time at the bar downstairs. To make my alcoholic experience a bit more enjoyable, I downloaded the Rolling Stones' "Miss You" on the digital jukebox and proceeded to sing along while sipping on a cheap domestic:
What's the matter man?
We gone come round 12 with some Puerto Rican girls who's just dyinnnn to meet you.
We gone bring a case of wine!
We gonna mess around, fool around just like we used to!
One of the bartenders, a diehard Star Wars junkie, disagreed with my choice of song and began ranting about people not being old enough to remember Return of the Jedi. He promptly interrupted my selection to put on theme to the most annoying trilogy of movies ever made. The bastard interrupted the Stones at the disco-funkiest! If was a bit drunker and about a foot taller, there woulda been a rumble. Instead I quietly vowed to avoid the downstairs bar at any and all costs.
Anyway, back to the story at hand.
I stopped attending indie dance nights in DC when I graduated from U-Maryland in 2004. When I started college, the local nightlife was still concentrated in Dupont Circle, Georgetown and Adams-Morgan. Therefore, monthly events like the Black Cat's Mousetrap and Metro Cafe's Panic! were welcome changes of scenery.
Inevitably, the popularity of such events led to their multiplication. At last count, the Black Cat hosts no less than four dance nights a month, and none of them is remarkably different from the other. And thanks to gentrification, bars in once seedy neighborhoods like Shaw and the H-Street corridor have joined in on the racket. Every other night, somebody is hosting a second-rate party featuring crap DJs spinning exactly the same shit. The proliferation of such unoriginal evenings resulted in my disillusion with dance nights, and I promptly restricted my sorties to hip-hop house parties and tiny neighborhood bars with good jukeboxes.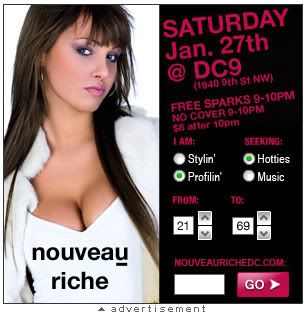 (an earlier flier)
Nouveau Riche seems to be a welcome change from the awkward indie stomping that has dominated the Capital for the last three or four years. Hosted by a troika of funky monks, Nouveau Riche is a monthly event that is currently being held at DC9. So instead of being something weekly event that's dependable and easy to take for granted, it is a happening that carries a mild sense of urgency.
Musically, the lads mixed it up with a variety of grimy club tracks, indie electronica and the occasional forgotten pop gem. Funny, I never thought I'd find myself shufflin' my feet to "In A Big Country."
Attendance was pretty good. At peak, the upstairs room was about three-quarters full yet here was more than enough breathing room. I was told that there were free Sparks being given out before 10pm, but I didn't get there till a little after 11, so I ended up paying for my drinks, dammit. Nonetheless, I was digging the ambiance. On the projection screens, images from
The Undersea World of Jacques Cousteau
created a soothing visual contrast to the electronic thumps and pulses that emanated from the speakers. And I certainly don't doubt that the arrival of spring was helping everybody's mood. In fact, I only managed to spot one sour face all evening.
Dancing? Mmmm, yea, I danced a little bit, but I spent most of the evening posted up in the corner playing Mr. Cool. I was attempting to recover from a serious cold, so I was limiting my movement to foot tapping, head nodding and the occasional hip turn or thrust; enough movement to show interest in the music, but not enough to scare some of the white folk.
Overall it was a good experience and something I could see myself attending Nouveau Riche in the near future. Hopefully, next time I won't spend half the night hacking up a lung.
Oh, and coming sometime this week, I will post my epic essay about a recent trip to my ancestral village of New York, where I attended a stunning performance by 100dBs and Ryan O'Neil.
LINKS:
Nouveau Riche Website. Podcasts, Photos and all.
DC9