Have you ever been to TJ Maxx or Marshall's? You know, one of those outlet stores that carry out of season clothing and slightly damaged overstock goods. If you live far from a big city or don't have much money, perhaps you should. Sometimes you can find a real bargain hidden among the unsold pairs of Sneaux shoes and size 40 Lee Jeans.
When you walk around these stores, it's impossible to ignore the unusually large amount of "urban wear" on the sale racks. FUBU, Sean John, G-Unit, South Pole; they're all present and accounted for. Whenever I'm at Rugged Warehouse in College Park, MD, I can't help but think of all the hip-hop clothing lines that have come and gone. And when I think of hip-hop, my mind inevitably drifts to the RZA, the GZA, Inspectah Deck, Ol' Dirty Bastard (R.I.P.), Ghostface Killah, Raekwon the Chef, U-God, Masta Killa and Method Man (oh and Cappadonna on a good day).
THE WU-TANG CLAN, DAMMIT!!!!
Long before 50 Cent purchased stock in Glaceau Vitamin Water, The Wu-Tang Clan were hip-hop's original ghetto conglomerate. Thanks to the RZA's dictatorial five-year plan, they were transformed from a grimy Staten Island collective to a merchandising empire in less than a decade.
Launched in the wake of Wu-Tang Forever's multiplatinum success, Wu-Wear was a strategic move on the economic chessboard. In 2005's Wu-Tang Manual, RZA explained that Wu-Wear was created to fill a void in the garment industry. According to him, upscale hood favorites like Tommy Hilfiger and Ralph Lauren didn't make their clothes baggy enough. Nobody was making stuff that cats in the street wanted to wear. RZA's hunch was correct, and the label took off not only in the hood, but also in the suburbs, where a sizeable percentage of Wu-Tang fans reside. In addition to t-shirts and jeans, Wu-Wear also made hoodies, wristbands, wallets and even special edition two-tone Wallabies.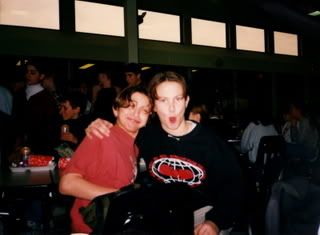 (An ancient photo from the heyday of Wu-Wear. Courtesy of Shane Annas, pictured on the right)
Sadly, the game has changed a lot since then. Nowadays, every rapper on earth has a clothing line. Hell, even Method Man broke ranks with the Wu to found Johnny Blaze. It's gotten to the point where there are more ghetto brands than ghetto buyers. And as a result, two things have happened:
1. Most of the (particularly sizes XXXL and up) overstock is being sold at wholesale prices to any store that will take it.
2. There's been a significant of smaller boutique labels that make very limited runs of their product. Have you ever seen anything by Ice Cream or BAPE being sold at 1/3 reduction?
It would be rather ignorant to blame Wu-Tang for causing the recent glut of hip-hop merchandise. The RZA and co. went into the business with the best of intentions. They created a clothing line that reflected their fiercely independent approach to the rap game. If you're old enough to remember, there was nobody doing it like the Wu-Tang Clan back late 1990s. Man, Wu-Wear actually stood for something! When you saw somebody walking down the street wearing any article of their clothing, it could be assumed he or she carried a certain set of principles. Chances are, you could ball up to that person, spit the following line, and not get punched in the face:
"Aiyyo, this rappin's like Ziti, facin me real TV
Crash at high-speeds, strawberry, kiwi"
Ok, Ok...maybe I'm exaggerating. But hey,I highly doubt that any of the above could be said about RocaWear!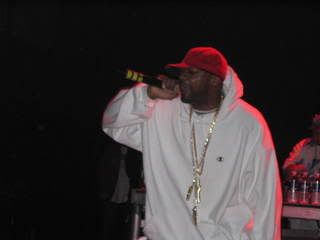 (The Wally Champ himself @ the 9:30 Club in 2006)
FOOTNOTE:
It's no accident that the white-tee phenomenon happened when it did. I like to think of it as a sort of minimalist revolt against the rabid commercialization of hip-hop fashion. Not only is it affordable, it's radical.
PS SEE BELOW FOR SPECIAL LOCAL ANNOUNCEMENT