As individuals, the members of Exactly have gained a certain amount of notoriety in DC's small, but closely knit indie scene. Whether for their outrageous sense of dress, or their hard partying antics, Jesse (Keyboards, Vocals), Cole (Drums) and Adrian (Keyboards, Vocals) have cemented their reputations as very colorful characters. So you can only imagine our surprise when these three announced that they were forming a band.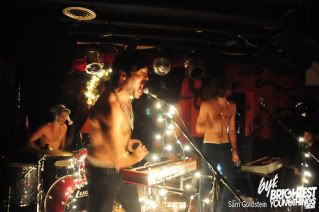 (Photo by Sam Goldstein, for Brightest Young Things)
Their first show at Asylum was a reverbed-out performance art spectacle that left some folks wondering if they'd just had the wool pulled over their eyes. (In all fairness, the soundguy did a terrible job). But all doubts were jettisoned when the group staged a show at their warehouse/practice space in October 2008. By turning down the reverb and actually crafting songs with discernible melodies, Exactly managed to channel the sounds of Suicide, Big Black, Kiss and Animal Collective. (Let it be known that I was the first one to compare these guys to Suicide, not DCist).This performance was particularly memorable due to the fact that the entire group (and their topless dancer) were covered in fake blood and surrounded by strobe-lights.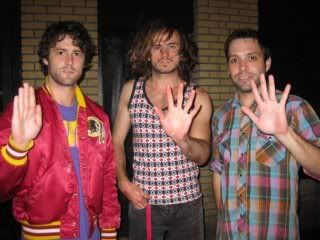 (Photo by Zach Callahan)
Since then, Exactly have continued to perform in the DC area, and even managed to take their act to Baltimore and New York. Check out their
MySpace
and pray that they decide to play a concert hall near you! I strongly recommend "Jenny's Fine" and "Empire."