I first met the members of Ringo Deathstarr in February 2008 when my band opened for them at Wonderland. From the wobbly opening chords of "Starsha," I was hooked. Yes their influences (Jesus and Mary Chain, My Bloody Valentine, Ride) were obvious, but they added fun and swagger to the sound. We stayed in touch and the next time they came to DC, we stayed up ridiculously late and drank way too much.
This Austin quartet will be returning to play shows at University of Maryland (Sat the 7th) and in Arlington, VA (Friday the 13th). Elliott Frasier, the band's primary vocalist and guitarist was kind enough to take some time to answer these questions.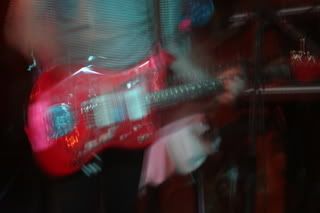 Congratulations on being featured in Magnet magazine. How'd that come about?
Simon from SVC records in the UK arranged that. He sent them the CD and did the correspondence with them and then on our first tour we met with the photographer and did the photo.
By the time you wrap up playing your show on March 13th, it'll be your 5th show in DC in the space of a year. Is this a coincidence, or are we that cool?
We love playing in DC, there was a lot of support for us the first time we played there, and we were surprised by how awesome everyone is there...
It's just funny cuz y'all have played DC more times than a lotta bands in NYC and Philly. What are your impressions of our loveable Capital City?
So far, we have not really been able to see much of the city, but we always stayed near the Whole Foods in Tenleytown, and the place we stayed was awesome but the guy Dennis who lived there has moved to Pennsylvania. The Metro is pretty cool. The people we have met are great.
You guys opened for the Dandy Warhols a couple of years ago. Are they still a fun band, or have they become a lot more cautious and reserved since Dig! Came out.
They are still party animals I'd say. They were pretty cool to us, and when we played with them on Halloween, they and their whole crew were dressed as characters from The Wizard of Oz.
Now let's backtrack a bit. Tell me about how y'all ended up in Austin and playing in this band.
I moved to Austin in 2004 and initially I played drums but the band i was in fell apart after the other guys moved here. I had written a few songs for that band and some of them were rejected by the rest of the band, so i decided to start a band where i played guitar and sang, and those songs were "Some Kind Of Sad" and "Summer Time," the latter of which was meant for a female to sing. After a while i met Alex cause she worked at this store called Factory People, and when i told her i was looking for a new bass player she jumped at the chance, but i was skeptical at first cause she had to go out of town for a couple of weeks, but when she got back she was all business, plus she had her own equipment which at the time was a big plus. She has known Renan for many years and so we asked him to play Guitar. Our drummer Daniel is an old friend of mine from high school. We work well together, and we try and not let things get too serious cause if i have learned one thing, its that arguing with band mates blows.
The thing I like about you guys the most is how loud you are. Do you do it to be confrontational or because you find that there are certain tones/sounds that can only be revealed through playing at high volume.
I'd say its the latter. The way the Sound wraps around you like a blanket gives a great sensation, and plus, it is just more fun. I am pretty sure that people like Pete Townsend and Jimi Hendrix were much much louder than us though, and our amps are not turned up to nearly the volume they would have had. I guess since the places we play are relatively small, it seems a lot louder than it is, and that is why we had to start bringing our own sound man cause we are sick of them telling us to turn down when our amps are on 3.
Have you or your bandmates (past and present) ever sustained any hearing damage from playing so loud?
Sometimes ears ring for a while but it goes away. I have permanent ringing in my ears but i had it long before this band began. It is cause of the way i beat the hell out of my cymbals when i was a drummer, plus working in a dry cleaners for 8 hours a day for a few years. When it is loud on stage, we all like it more.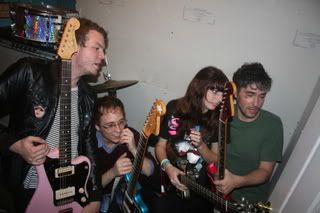 Is Austin all hype? Or is it really the live music capital of the US?
Well, as far as the amount of live venues per capita i guess it is the live music capitol. Plus, most of the venues are in one area. Now, if watching a bunch of wankers play Blues Rock Fusion is your thing, then this is the place for you. Other than that, its probably the same as a lot of other towns kind of known for music, because there are a lot of resources and community support here.
Do you instantly feel a connection when you meet a fellow Texan in other states/countries?
Not really, unless they are like a friend of a friend or something
Do you wear cowboy boots. And if so, how many pairs do you own?
No cowboy boots, just "Beatle Boots"
What can we expect from you guys in 2009? Perhaps another 2 visits to DC before the end of the year?????An Album?
We will be back to DC way more than 2 times i guarantee. Also, we will have various 7'' singles, and an album by the end of summer. We were too busy getting our touring stuff sorted out last year so we didn't really get to the studio much, nor did we have labels wanting to release stuff, but now, we have a few different independent labels that are gonna release the various stuff and it will all be on vinyl for you geeks out there.
NERD Question. Life or death: Ride's "Smile" or My Bloody Valentine's "Isn't Anything."
Smile
What's more fun that drinking Natty Bo until 5 o'clock in the morning while a hurricane is raging outside?
Nothing
Check Out Ringo Deathstarr on
MySpace
!