Velodrome, a monthly dance held at the Velvet Lounge, has become one of the most exciting underground nightlife options in DC. DJs Scott Bauer and Ed Porter specialize in Italo-disco, house, post-punk and electropop from the late 1970s and 1980s. More often than not, they spin records most people have never heard. This, of course, does not stop them from dancing. As an added touch, each Velodrome night features a half-hour set by a band. Among them, Screen Vinyl Image, True Womanhood, Exactly, Ra Ra Rasputin and the Spiritual Machine.

Below is a lengthy interview that I conducted via email with Scott and Ed. As a bonus, I've also included a link to the page that holds the pair's latest mix. Enjoy.


How many venues have hosted Velodrome? What were the advantages and disadvantages of each one?
Ed: Ugh, Jesus, like let's see, three now. We started at Selam. It's a cool divey english basement Eritrean restaurant on U Street. I've done a bunch of other parties there back in the day (old Blackout parties with Rob Hart when electro wasn't terrible), so it was convenient to talk to the people over there. Unfortunately, the back room there sounds like pure ass when you get a band in it. It's just too small for what we wanted to do.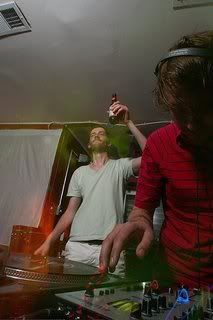 (Photo: Fitsum Belay. More info: http://illimeter.com)
Scott: In many ways I thought the smallness was cool, some of my favorite memories of the night is DJing right around midnight with the bands setting up right behind us and getting hit in the head by guitars and and like cueing up records and checking mics at the same time. Or crawling underneath equipment aimlessly attempting to adjust levels on our little mixing board because we had to try to also do sound for the band while they were playing. It felt VERY underground throwing our night in a basement restaurant which really fit the vibe of the party since we billed it as an underground dance music night. The family who runs Selam are good people too. After a few months of throwing the party we realized we needed to move it. The tile floors and low ceiling were fine for playing dance music but were also awesome at bouncing around hit-hats and reverbed guitar strings which was painfully loud. The bands literally gave people headaches, even though they were headaches of radical.
Ed: So we started looking elsewhere. We talked to DC9 and Velvet Lounge, eventually settling on Velvet Lounge. Unfortunately, they weren't ready to take us on for a couple months.
So, then we moved to Civilian Art Projects. Civilian is such a cool art gallery. Jamie over there was really nice and helped us out a lot by letting us throw the party there until Velvet Lounge opened up. We did two or three Velodrome there. It was an awesomely large space with an art gallery attached, so it made us seem intelligent. But, it didn't have a sound system or an elevator, and at the top of three flights of steps, it wasn't exactly the most conducive to bands with a bunch of gear.
Scott: Yeah CAP was a cool spot to do Velodrome. The vibe was cool and there was artsy art all about. Hanging out in China-Town was cool too as very little things tend to bring me down there. For this spot we had to carry all of our equipment and provide our own PA which usually was a logistic nightmare. I got no less than 3 parking tickets when we did Velodrome downtown at Civilian. The True Womanhood show we did there was a highlight. I felt culture, french culture.
Ed: But, now we're settled at Velvet Lounge. They've got merely a single flight of steps, an installed soundsystem and a soundguy. It's also small enough to keep the party intimate, so we can book bands we really like and not play to the masses.
Scott: I like how the technical term for the guy who works on the sound is actually "sound guy".
Epic.What gives you to confidence to play songs that most people have never heard?
Scott: Whiskey is the sole source from which I draw confidence. A lot of it I guess is just a hope that people like to dance as much as I do and that other people actually want to hear new music as long as it is good. Before we started doing Velodrome I would send a lot of music out to friends and would get a really positive response to it all so that helped me to believe that people would get down to my wierdo music. A lot of the post punk and no wave we play is fairly well liked and known so we try to mix that stuff in to please people as well. I'm really not that much of a DJ and am not good at things like predicting what a crowd is going to like and all that stuff so I just tend to play what I would want to hear and hope that the crowd will like it too. It usually works out pretty well but if not then Ed can usually jump in and set it right for me, he is a very good DJ.
Ed: Ha, thanks, Scott. I don't think it's confidence. I think it's more a lack of common sense or urgency. We could easily play top-40 and party rap all night long, any night of the week, and actually make money as DJs. Unfortunately, that music makes us sad. As reasonably well funded, working people, we don't need the cash. As such, we play whatever we want (thinly veiled label reference). Actually, I think I'd play what I want no matter what anyway. Fuck bad, crowd pleasing music. I like some really popular stuff, so I can pull off more mainstream housey sets and be fine, but for the purposes of Velodrome, it's really about striking a balance in the context of bands/show going people who don't like dancing/and partiers. So, I guess I just play music people haven't heard because it's the only way I know how to do it. Fuck, I babble a lot.
Could you name a couple of records that've garnered a really good crowd reaction?
Ed: People like weird things. I remember at Selam people going absolutely nuts to hi-NRG like Sylvester - Sex. I've also always had a good response to the patrick cowley remix of I Need Love and dumb stuff like 'Atomic Dog'. I think Daniel Wang - Like Some Dream I Can't Stop Dreaming is timeless too. It's just infectious. Ha. Nothing I listed is Italo, House, or Post-Punk. We're so eclectic.
Scott: Yeah, you really never know what the crowd is going to like. Like Ed said, people like the hi NRG, the stuff at around 130-140 beats per minute made in San Francisco and Florida mostly. Passion by the Flirts does very well. I think the ultimate Velodrome record is still the Italo track "Take a Chance" by Mr. Flagio, its one of the best songs ever made and I've defiantly overplayed it at our night but there is always a point in the night when I decide that the next song that needs to go on is "Take a Chance". Also, when all else fails, play anything by A Certain Ratio. Even the furniture will dance to "Shack Up" or "Do the DU". Or "I Want More" from Can.
What's y'all's secret to finding such rare records? Where and how do you shop?
Ed: I think Scott lives on ebay. I, personally, don't have what I would consider a burgeoning rare record selection. What I do have is songs I like a lot. I find them a number of places. I like Som, here in DC, most out of any of the established shops. Really, other than Red Onion, I feel like it's the only real record store in DC to used dance records that aren't horribly overpriced or just junk.
I also dig a lot, so thrift stores, flea markets, and the like are all prime spots. For the more weird stuff we do at Velodrome, I think the best place is the internet. I buy a lot on ebay and discogs. I also follow a lot of people's charts and listen to a lot of mixes. I do use Serato, and I do download a fair amount of music too (a good portion of which I pay for at sites like beatport, traxsource, and ttl digital),
but I consciously do not read blogs. Blogs are the death of taste and selection. It's a fact. Do some work for your shit.
Scott: Yeah I mostly live in the realm of getting my records online from ebay or discogs and to a lesser extent, gemm. I've been collecting records for about 10 years and have more than 1000 so nowadays if I get vinyl then I want it to be something I will actually listen to. Back when I lived in Tucson I was blessed with this record store called PDQ which was this huge warehouse of used vinyl. 10 years ago no one was buying old synth funk, old electro and disco so I was grabbing some great stuff for cheap. This was when electoclash was getting bigger and indie dance was just starting and this old stuff went really well with what was coming out then. That's what started my love for dance music from the late seventies and early 80s that continues to this day.
I get a lot of stuff from Red Onion records, Josh, the guy who owns the place is everything you wish for in an owner of an independent record store. He is very knowledgeable in his records and he knows more or less what I like and so will sometimes hold onto stuff for me that he knows I will like even. That's where I get most of my weird synth rock and post punk records. Like Ed said, Som has some great stuff too. I listen to a lot of radio mixes from the olden days to learn a lot about music, i have my friends that turn me onto different stuff. There are also these Internet heroes that have put like every record ever on YouTube so once I find out about a song, I can usually hear it there before buying it. Ebay allows you to find anything as long as you are willing to pay. Most of the music I listen to tends to be in record collections through out Europe so I've come to dig less in resent years and get it online since the chance of finding it here is rather slim. In the end it usually come down to going by labels and producers and sometimes even just like, which record has a cool cover. Its a lot of bringing your record player in and just playing everything that remotely looks interesting.
There's been talk of incorporating synths and drum machines into your sets. How are you gonna pull this off?
Ed: Trade Secret. It will be cool, and it will be awesome. We've been practicing, and it's going to get progressively more and more interesting as we practice and work in the coming months. We expect to be fluidly building songs on the fly in the future. We want to produce really organic and exciting sets, melding new technology to old technology. It's the only way to bridge the gap and not become some dude pressing buttons in Ableton for a couple hours.
Scott: This project has been Ed's Holy Grail since I've met him. Since we play such an eclectic set it can be hard to bring so many different genres from different time periods together. The production techniques for the different genres and eras are very different so what we needed was to bring in our own beats to bridge between different genres and to pump up some of the older songs with no compression. I wont go into what we are doing but rest assured, it is wonderful what we've been able to do these past couple weeks, and it will only get cooler with time!
Are there any artists or producers right now whose work you think will be played in clubs 20, 25 years from now?
Ed: A lot of people from a lot of genres. Daniel Wang, DFA, most of DC Recordings, Todd Terje, Henrik Schwarz. I dunno, that's just off the top of my head.
Scott: I think people will someday geek out for all the DFA releases. They have been on top of dance music at every step since 2002 or so. They will be the Factory records of our time. I think some of the more Epic stuff from Daniel Wang and Lee Douglas will do very well in the future. We just had a conversation about how "NY Story" is one of the best songs to come out in the last 10 years. For some reason, everything that comes out of the country of Sweden is great, I don't know why. A lot of what is being made right now I feel is pretty disposable, but I imagine that's a complaint that has been given by music listeners for pretty much forever.
One of the most unique aspects of Velodrome is the half-hour set by a local band. What made you decide to incorporate live music into your night?
Scott: There are a few dance nights in DC that incorporate live acts, i guess ours is different mostly in that we tend to book local bands. Our initial reasons were lofty; there are A LOT of dance nights in DC and they tend to dominate the weekend bookings at the better clubs. We wanted a night where local bands could get more attention by being showcased but also still allowed people to go out and dance on the weekends. We wanted to show that people can dance to rock music and rock to dance music. We don't necessarily always book a dance band, but as long as the band is trying something different, then they fit with the night. We have been pretty lucky with the outcome, i think it works pretty well. This month we have Mas y Mas from Virginia Beach. They are immensely awesome and promise to be one of the greatest most energetic and fun bands we have books so far.
Ed: Because everyone's doing a DJ night now. It's fucking boring. And we decided it was time to do something all-inclusive and organic. I actually want to start doing the night 18+, because when I was 18, I didn't know there was good dance music. I think by having a band play, we get to trick people who wouldn't normally go to a night mostly about dancing into coming to our night. We can also convince people to come and dance to bands, which usually doesn't happen either.
Are there any bands that you would really really like to make an appearance? I was thinking Liquid Liquid. They'd be very appropriate, but I'm sure they' want a lot of money.
Scott: Ha, could you imagine having Liquid Liquid play at Velvet lounge?
Ed: or ESG!
It would be a pretty awesome show though. Right now we are trying to decide if we want to expand the night and bring in bigger acts or not. There are only so many bands to draw from locally that fit with the night so as long as we keep going we will inevitably start bringing in bigger bands from elsewhere. Of course money is always an issue, we try to keep the night cheap for every one.
What are your most memorable moments, thus far?
Scott: I'd say my most memorable moments are interacting with the bands we book. Its a long night usually for everyone involve with the band loading in usually around 8 and not being able to pack up til at least 3 in the morning. We get to help them load in and sound check together and Its great to meet so many people and see what people are doing musically.
Ed: Going wild with lights at Selam, sweaty and dancing so late to Hi-NRG. People going deaf to Screen Vinyl Image. The trainwreck of artsy music at the first Civilian show. True Womanhood carrying an obscene amount of gear up three flights of steps and not dying.

Final question. Why is Velodrome the best underground dance night in DC?
Scott: Are we? If so its because we are able the attract the likes of Patrick Kigongo so often.
Ed: I hesitate to say we're the best underground dance night in DC, Chris's nights at TnT & the perennial Nouveau Riche are stiff competition, but we're definitely the most unique. Why? Because, we're cool dudes, and we don't have any idea what the fuck we're doing.
Velodrome will be held at the Velvet Lounge on Friday February 13th. It is located at 915 U St NW, Washington, DC. Conveniently around the corner from the U-Street Cardozo Metro Station.