This week's entry was co-written with my "smooth-brother" alter-ego, Dell'ante. I must admit, I hesitated to write this article for a long time. Every time I tried to write a draft, it came off like something you'd read in Maxim. Hopefully this version isn't too laddish.
What is make-out music? And why is it that when it comes to spending a little quiet time with that special someone, the first albums that come to mind are releases by Al Green or Maxwell? Now, I think these artists (as well as everyone mentioned in Kanye West's "Slow Jams") make wonderful, terrific music. But it's hard to believe that hot-buttered soul is the only appropriate music for a night in.
I'd be a fool to argue that there are certain albums that'll make a night go perfectly. I will say, however, that the strong arrangements and unique production values of the albums listed below can definitely enhance the mood of your evening.
In other words:
If your game is tight, putting these records on only enhances your cool.

Air "Moon Safari"
(Virgin 1998)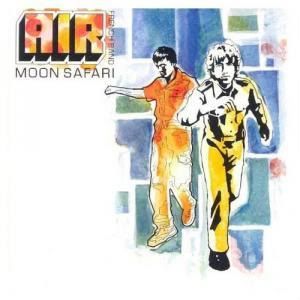 2 French producers
+
Analog & Vintage Synths
+
Singer Beth Hirsch
=
INSTANT CHILLOUT CLASSIC. What more do you need?
DELL'ANTE'S VERDICT:
Take the opening track, "La Femme D'argent." This song is so perfectly arranged for coupling, that if you wait until the piano break around 4 minute mark, you'll be overcome by the desire to cease conversation and proceed to suck face.
My Bloody Valentine "Ecstasy and Wine"
(Lazy Records 1989)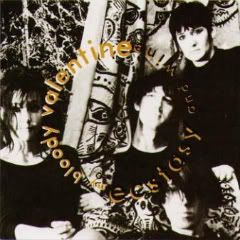 Having disposed of their original singer, Dave Conway, My Bloody Valentine moved away from fuzz pop and towards their trademark ethereal drones. "Ecstasy and Wine" combines two EPs that were released during the run up to 1988's landmark "Isn't Anything." While the album is lo-fi, Kevin Shields and company were dropping hints that they were onto something otherworldy. Conway's C86 era yelps are replaced with Belinda Butcher's beautiful blissed out vocals. The guitars are still loud, but they're not as jarring as they were on earlier releases. And like much of their later work, the songs from "Ecstasy and Wine" sound great at a low volume, but are breathtaking when played really loud.
DELL'ANTE'S VERDICT:
This compilation, along with several other pre-Creation EPs, has been out of print for sometime. Emphasize this when discussing My Bloody Valentine. Make it apparent that you'll go a long way to get something you really want.

Antena "Camino Del Sol"
(Les Disques Du Crepuscule 1982.
Reissued and expanded by Numero Group, 2004)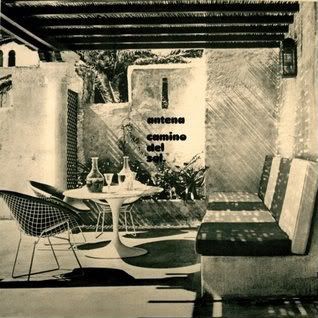 Originally released as a mini LP in 1982, "Camino del Sol" was one of the more interesting curios to come out French "Cold Wave" scene. Though the group was short-lived, their unique blend of chanson, Brazilian rhythms and lo-fi electro was years ahead of its time. Tortoise sampled the drum loop from "To Climb the Cliff" on one of their early singles. And some of the tracks on this album would fit comfortably in Stereolab's vast back catalog (given Isabella Antena's tendency to sing in both English and French).
Reviewer's jargon aside, the reissue of Camino Del Sol could ideally serve as background music to a dinner and stiff drinks night. Isabella's voice is playful, yet undeniably seductive. Even more alluring is how fantastic samba rhythms sound when played on synths and drum machines. One would never think that such frigid instruments could accommodate the soul and bounce of Brazilian music.
DELL'ANTE'S VERDICT:
If you decide to put on this lost classic, don't be surprised if you're overcome by the urge to samba with your parter. And we all know that dancing close usually leads to other things…
Stereolab "Transient Random-Noisebursts With Announcements" (Duophonic/UK and Elektra/US, 1993)
Stereolab is the sort of group you get into when you have a little bit more time and money to explore surrealism, Dadaism and other philosophical reactions to the horrors of modern life. Stereolab's highly referential approach to music may leave some folks cold. But I don't think that Tim Gane and Laetitia Sadier ever intended to make music for people with a passing appreciation for good music.
"Transient Random-Noisebursts With Announcements" is a compelling soundtrack for those nights when you wanna chill with someone on the intellectual tip. You could spend hours discussing Stereolab's love of Neu!, The Velvet Underground and European easy listening music. Thankfully, this album isn't so brainy that it's unlistenable. This album is bustling with attractive and inviting sounds. Take the bustling Farfisa organ on "I'm Going Out of My Way" or commanding sound of a picked Fender bass on "Golden Ball."
DELL'ANTE'S VERDICT:
Potential mood killing moment on this album: The sudden burst of out-of-phase noise on the 18-minute opus, "Jenny Ondioline."

Cocteau Twins "Treasure"
(4AD, 1984)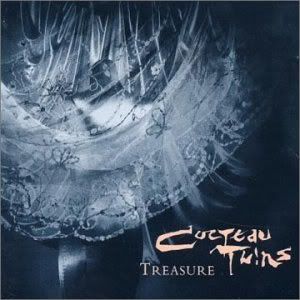 Elizabeth Fraser's strongest point as a singer is her ability to make nonsensical sounds and syllables sound positively beautiful. Singing in a mixture of English, Gaelic and gibberish, Fraser's vocals are often unintelligible, but they are a fine compliment to Robin Guthrie's heavily chorused guitars and Simon Raymonde's crawling bass. I once tried to track down printed versions of her lyrics, but soon realized that there was no point. Even if I did learn the words, I would never be able to sing them like she does. Come to think of it, have you ever heard anyone cover a Cocteau Twins song?
While I've come to appreciate their earlier albums and EPs, I'll always have a special place in my heart for "Treasure." I feel like everything went downhill for the Cocteaus after this release. Granted they did release a few good EPs and a really nice collaboration with Harold Budd. But the later albums were nowhere nearly as strong, especially after they left 4AD.
DELL'ANTE'S VERDICT:
The songs on this album are either quiet and laced with hushed vocals and washed-out guitars OR rely heavily on pounding drum machines and quasi-yodeling from Liz (see "Persephone"). Make your moves accordingly.