My most sincere apologies for the delay of this posting. Please see below for details and relevant updates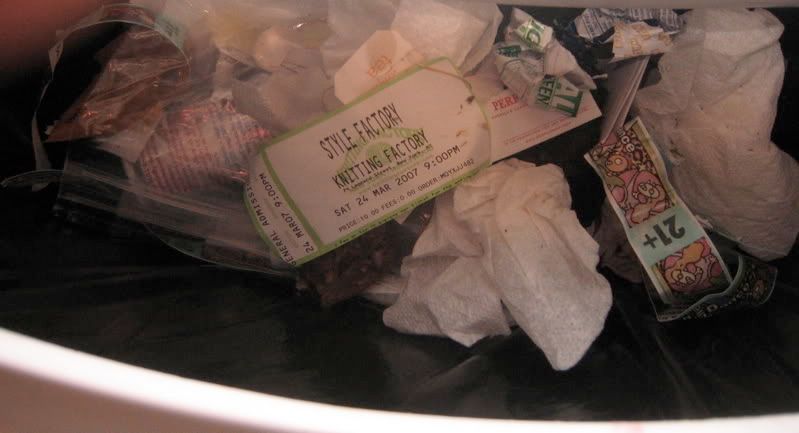 The 45-minute trip from my house in Washington DC to Sykesville, MD is a boring and familiar one. But on this particular Friday morning, it was a race against time. It was my duty to pick my girlfriend Laura, run some errands, park the car and hustle to downtown to catch an 11:30 bus to NYC. If everything went according to plan, we would arrive in midtown Manhattan around 5pm and meet up Dan "100dBs" Brenner at work. The two of them were booked to perform at the Knitting Factory on Saturday night, and a small cabal of us from DC/MD had arranged to crash at his place for two nights and attend the performance.
For most of the morning, it seemed as though my plan was working smoothly. I'd gotten gas, picked up Laura, and was making good time overall. Of course, fate had to intervene and I was cursed with a series of delays on MD Route 29. As the clock struck 10:20AM, I realized that I had no shot at making the 11:30 bus. Translation: our departure would have to be delayed until noon. Sure, it was only a half hour's difference, but I was pissed off because my plans had been thrown into total disarray. And because I am a petty man, I took this particular inconvenience very personally.
In spite of the delays, we were able to board the bus without incident. Normally, I can be a very talkative fellow on long trips, but I was still suffering from a really bad cough (which later developed into a rather serious infection), so I wasn't really saying much. Laura was not pleased with my lengthy silences and expressed her dissatisfaction with the situation by sulking and giving me the evil eye.
After hellish delays on I-95 near Newark, NJ, we entered Manhattan and quickly made moves downtown.We found 100dBs and Patrick Dulany (of Francis Estate fame) having drinks at Niagara, a popular East Village nightspot. Seated with the dynamic duo was Sam, a Brooklyn Law student who attended the same high school as 100dBs. He was a tall beatnik lookin' fellow who bore a passing resemblance to MC Serch. Because he is such a garrulous and inviting fellow, my man pulled over a couple of stools and invited Miss Laura and I to have a seat.While sippin' on a freshly poured Guinness, Sam enthusiastically explained to me why he was working with dBs and Ryan. It was refreshing to hear a young person talk about creating something and using a venue to promote artistic performance, as opposed to flogging a series of self-congratulatory popularity contests that now define Lower Manhattan nightlife.
After a lively dinner at nearby 7A, our gang made moves to Sam's apartment in Alphabet City. The rest of the evening was spent passing blunts and watching NCAA basketball. Because most of us were/are public university students, we were all keen to find out the final scores. This may seem underwhelming for a first night back in New York, but it had been a really long day and some down time was absolutely necessary. Around 1am, we decided that we'd had enough of James Brown mixes and watching the Gators coast to another championship. A car service was flagged down and we made the first of many trips back to Brooklyn.
From the real estate perspective, Sunset Park is rather unremarkable. There are no cool warehouses, hip bars and or storefront art galleries. It is in this decidedly ho-hum immigrant neighborhood in Brooklyn that you can find the residence of 100dBs and Meg. They share a two-bedroom apartment that is littered with canvases, back issues of Fader, and endless crates of vinyl. This would be our home base until Sunday afternoon.
SATURDAY
Having spent most of the night coughing, I was far from well rested. Tragically, I woke up at 6 AM and couldn't fall back asleep. I was pissed because I had promised to take Laura downtown and now I was restless and feeling worse than I had the day before. Making matters worse, 100dBs could not decide whether or not he wanted to go around the corner and get a haircut. Two hours had gone by and we were still at the crib. Realizing that
Time=$
, me and Laura decided to groom and hit the road in order to prevent the passage of any more idle time. Upon making our plan known to our hosts, we jumped on the R train and headed to SoHo to rendezvous with the one and only Melissa Friedman.
We found Mel-1 at Supreme, an upscale skate shop located on Lafayette Street. Ms Friedman is one of the few people I know who can talk about the history of Lower Manhattan without the bullshit nostalgia that is conjured up by a lot of our friends. For next couple of hours we walked in and out of boutiques as Melissa spit some classic stories about long gone record stores, squats and homeless folk.
After grabbing a quick lunch from a small Israeli takeaway, we posted up in Tomkins Square Park to watch the skateboarders. We were particularly amused by a small Asian kid who was there with his mother. He was no older than 4, but he was determined as hell. Every time he fell down, he got right back up and started pushing around, paying no mind to the controlled acrobatics of the older boys. I sometimes wish skating was still that fun for me.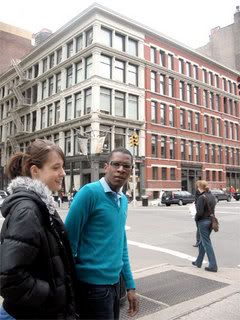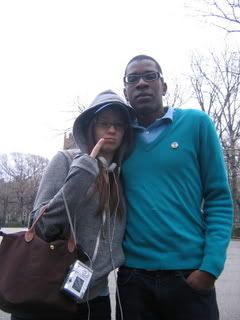 By 5pm, the sky had grown dark and it began drizzling. It was becoming painfully apparent that we could no longer be outdoors without coats. We decided to jet back to the subway and avoid getting soaked by the impending downpour.As we approached Union Square, I spotted two men, one black, one white, arguing loudly at the corner:
"Yo man, I told you I wanted wheat, what the fuck is this nonsense."

"You said originally that you wanted white. So that's what I got you!"

"Nah man, that's out. Fuck all that mess, I said that I wanted wheat, how are you gonna bring me this shit and expect me to take you seriously."
After a quick analysis of the situation, I arrived at two possible conclusions. Either bro man was really serious about the nutritional content of his sandwich OR this was a poorly coded argument about an illicit transaction gone awry. No matter which way you flipped it, whitey was not getting out of this one easily. You could see the lump forming in his throat as he tried to talk his way out of an increasingly difficult situation.
THE SHOW:
Laura and I returned to the crib around 5:30pm, only to find Pat Dulany sprawled out on the couch watching an episode of
Scrubs
. I was exhausted, but there were no more seats because the old lady had passed out on the only available couch. I shrugged my shoulders and decided to relax in the kitchen by reading magazines and drinking green tea. Cripes, my throat was killing me.
About an hour and half later, the doorbell rang and in came none other than Ryan O'Neil and his mother. Ryan had just gotten his braids redone and was glowing with that pre-show radiance. His mother, who looked absolutely stunning, had the sort of charm and eloquence that rivaled girls half her age. But rather than try to play Daddy Cool with my friend's Jamaican queen of a mama, I politely excuse myself and made moves to grab a quick dinner from a nearby tacqueria.
After dinner and a little bit of pre-gaming in the kitchen, everybody got dressed and prepared for departure. There was no rush to get to Knitting Factory, but most of us wanted to get the trip out of the way and get the party started. Around 8pm, me, Laura, 100dBs, Ryan, Pat, Meg and her brother Tyler piled into an oversized taxi and made moves to the show.
100dBs was scheduled to perform twice that night. First as a solo act and second as a DJ for Ryan's five song set. As he began to warm up, friends and cohorts from NY and Maryland began to trickle in. Kyle Decker and Tom 4 arrived with a sizable Jersey mob in tow. Our girl Lisa, also of College Park infamy, decided to take a break from her 60 hour work week to enjoy a night of hard drinking with a couple of buddies from uptown. Oh shit, even the infamous Ginger Pubed Bringer of the Ruckus, Timmy E balled up from Philly.And of course the ever-popular one-hand bandit, Ryan surrounded himself with a army of friends as he sipped tea to in preparation of his performance.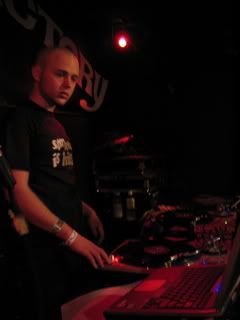 I've seen 100dBs DJ more times that I can remember, but as of recently I've been really impressed. On this night, he blessed the crowd with a fine mixture of hiphop, reggae soul and the occasional Colonel K not-so-obscure favorite (e.g. the Buddy 12" mix by De La Soul) By the end of his set, the basement was becoming packed and sweaty. It was the Francis Estate all over again.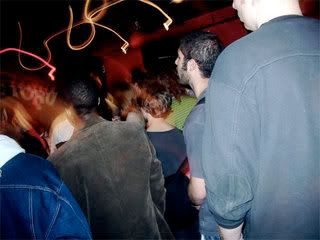 Tragically, the next three hours were an exercise in pure misery. It's rather shameful to think that New York, the home of hip-hop, could produce so much 2nd and 3rd class talent. Then again, it's a tad unfair to place such a hefty burden on 19, and 20 year-old MCs. But Lord have mercy, a these guys were just plain awful.Thankfully a steady intake of alcohol and a never-ending stream of new and interesting people kept me entertained.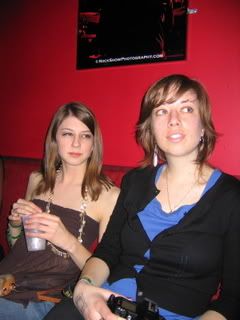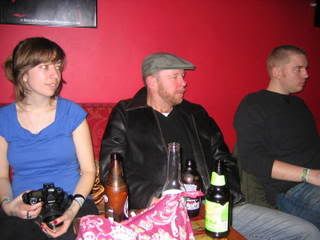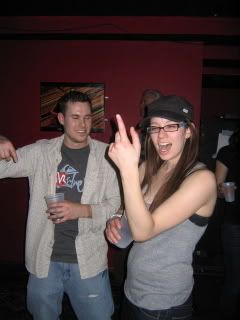 Around 1230, my patience was beginning to wear thin. I was in the middle of talking to a new friend when I noticed Ryan jump to the stage and Dan creep behind the decks. Where previous acts had failed to captivate me, Ryan commanded my attention with the ferociousness of a South American dictator.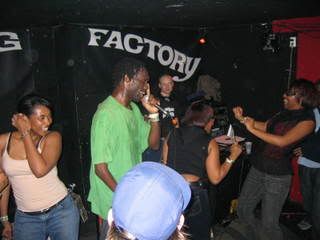 He and 100dBs delivered a 20-minute long set that packed a real wallop. It was incredible; Ryan had the whole crowd singing along to "She Got A Body" and "Clap Your Hands." Next thing you know he had girls dancing on stage with him. It sorta reminded me of the last few times I saw Ghostface.
A recent review of Brenner's Breaks Volume 1, complained that Ryan was too cocky, but I strongly disagreed with this. Here he was, commanding a New York audience on a Saturday night while girls of varying shapes,sizes and colors shaking their asses on stage with him. If you were in his position, you'd be pretty cocky too.
At the end of the night, all of us were feeling a bit tipsy. As soon as the venue closed we were on our way back to BK, where we were treated to some nightcaps and fabulous grilled cheese & tomato sandwiches prepared by our hosts. Mmmmmm.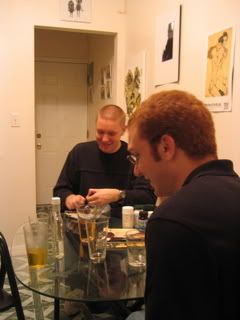 SUNDAY MORNING:
The next morning, me and Laura were up bright and early so that we could make moves back to DC. I was tired and my voice was shot. We said our goodbyes to Dan and Meg and hustled back to Manhattan to wait for the bus with a bunch of Georgetown students who'd come up to NYC to watch the games over the weekend. Our ride back to the District was uneventful. I walked into my house, cleaned up and started writing this essay, which has taken me nearly three months to complete. There are a lot of legit excuses I could make, but you know what, better late than never....right?
UPDATES
Dan and Meg have since moved to the East Village. Pat Dulany finished his architecture degree and is currently wreaking havoc in Europe.